Cognitive sciences are an interdisciplinary research field involving all scientific subjects likely to help in the understanding of human behavior, including learning mechanisms (philosophy, artificial intelligence, economics…). Among these disciplines, neurosciences, which consist in the study of our nervous system, have a special place.
Neurosciences have experienced a very strong growth with the technological progress of medical imaging, especially the development of magnetic resonance imaging (MRI) since the 1970s.
STANISLAS DEHAENE'S ADVICE FOR BETTER LEARNING, APPLIED TO FINANCIAL EDUCATION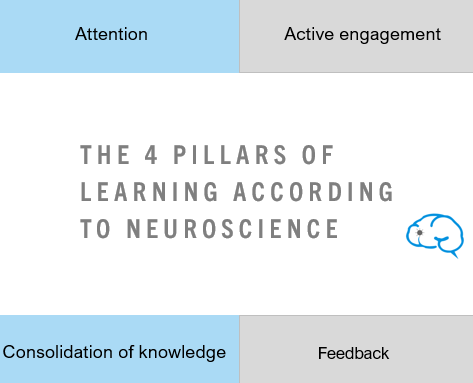 PILLAR 1: LEARNING TO PAY ATTENTION
Attention and focus are necessary for any form of effective learning.
Stanislas Dehaene identifies more precisely three phases of attention: alertness, orientation and executive control. In the alert phase, the learner's attention must be captured (animation, change of pace, sound, surprise…). Then, it must be channeled to the right object and at the right level.
Finally, the learner must be asked to concentrate on learning by inhibiting any other element that could disturb him ("executive control"). These three phases mobilize massive brain activity. Sources of distraction must be avoided. Thus, working while listening to music, working in noisy open spaces or doing two tasks at the same time is detrimental to the quality of learning. In the context of an e-learning application, a balance must be found between attracting the learner's attention – via a fun and interactive approach – and avoiding any form of distraction, via for example an excess of animations that are not relevant to learning or a visual overload of the screen.
PILLAR 2: ACTIVE ENGAGEMENT
We learn much better in an active state than a passive one. Thus, the traditional educational system based on a lecture followed, a few weeks later, by an exam, is an ineffective method of learning. We learn primarily through exercise and interaction. Otherwise, our attention (pillar 1) wanes very quickly. On the other hand, we can maintain our level of attention if the task at hand continues to whet our curiosity. Making the learning conditions more difficult will therefore result in more learner engagement. However, if the task becomes too difficult, the learner may become discouraged. It is therefore essential to adapt the level of the exercises required to the learner.
PILLAR 3: LEARNING FROM MISTAKES
According to Stanislas Dehaene's research, our brain learns in a Bayesian way.
We start with an assumption, for example "investing in the stock market cannot be ethical", and we update this belief as we go along, mainly by making mistakes and correcting them. To learn effectively, it is therefore ideal to allow the learner to experiment actively. The loop described by Dehaene is: prediction, feedback, correction, new prediction. A learning method that is the antithesis of our European educational culture, which is mainly structured around the fear of failure.
Nevertheless, there is one major condition to ensure the effectiveness of learning by error. The latter must be corrected immediately, in order to internalize the correct answer without delay, and in a non-punitive way, stress being a learning inhibitor.
On the contrary, the learner must be rewarded for his or her correct answers. Again, this method of learning is the opposite of the one familiar to today's savers, who grew up in a school system where an exam was followed by its correction one or two weeks later.
PILLAR 4: CONSOLIDATION
Working for 15 minutes a day for 8 days is more effective than working for two hours straight. Sleep has a fundamental role in learning and memorizing key concepts. Spreading out learning allows for longer-term memorization with less effort. In addition to spreading out learning over time, repetition is essential. From a neuronal point of view, this allows us to move from
from explicit learning, which requires a lot of cognitive effort (prefrontal cortex), to unconscious automatic processing. This frees up brain space for learning new concepts.
THE QUESTIONING OF "NEUROMYTHS" ABOUT LEARNING
NEUROMYTH 1: WE HAVE DIFFERENT LEARNING STYLES
In his various studies, Stanislas Dehaene has shown that the organic architecture of our brain is structurally identical from one individual to another.
None of his studies has been able to demonstrate, for example, the existence of different learning styles (auditory or visual), nor of inequalities between genders or social backgrounds. This does not exclude certain disabilities, such as dyslexia, for which certain pedagogical accommodations are necessary.
NEUROMYTH 2 : WE MUST FIRST MASTER THEORY BEFORE MOVING ON TO PRACTICE
The European learning structure, especially in Latin countries, is mainly based on passive learning at first, in front of a lecture, and then on practical exams to validate the acquired knowledge. Neuroscience researchers have demonstrated the inefficiency of this approach. Our brain learns essentially in an active way, through stimulation, interaction and surprise. Thus, according to these theories, it is essential to go as quickly as possible to exercises, in order to "learn by doing", thanks to error and experimentation.
Are you interested in this topic? Discover our white paper below!