Budgeting, saving, purchasing, investing, credit… financial decisions impact the quality of life of Europeans on a daily basis.
Nevertheless, Europeans are still very conservative in their investments.
According to a survey by the Banque de France, 69% of French people consider their knowledge of financial matters to be average or poor. This proportion is similar to that observed in other OECD countries and found in other studies, such as that of the Possible Finance association in 2021.
The results of a CREDOC survey on the financial culture of the French reinforce this observation:
Only one in two people knows that €100 invested at 2% per year leads to a capital of €102 after one year.
One in four people manages to find the definition of an obligation from a list of three possible answers.
Only 45% know what a mutual fund is and 52% know the principle of a dividend.
In response to this social challenge, Fintech applications have emerged in recent years to help individuals better understand the mechanisms of financial products and invest wisely.
Most of them are based on gamification. Reward systems, levels, immediate feedback, avatars… are used to make users want to learn more about finance.
In this article, we present the most significant ones, comparing their advantages and disadvantages.
It is an American application that was developed by former MBA students from Berkeley, California, who wanted to improve the financial literacy of Americans. The model is B to C, the application is aimed at a wide audience.
It is a free learning application, training individuals via MCQs divided into different sections on both investment and budgeting topics.
They start with basic topics such as "what is financial education?" and then move on to more technical topics such as saving, investing, borrowing etc.
The themes, classified by level, are unlocked as clients progress.
The application also allows you to manage your budget online.
Advantage: a game-like level system, detailed explanations and a budget management application.
Disadvantages: few gamification elements, rather simple visual.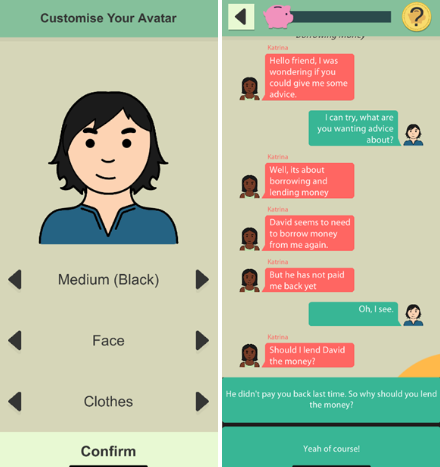 This application, which specialises in budget education, was created in the United Kingdom and co-founded by the famous Erasmus + programme. The model is B to C.
The "ProFiLE" application aims to provide educational resources on financial education for teachers, parents and carers who need guides and educational activities to help young children aged 7-11 understand money concepts.
After choosing an avatar, the user can ask budget questions in the form of scripted message exchanges that are pre-recorded in the application.
Entirely free of charge, the topics covered are: taxes, borrowing, the value of money, having a sense of priority when shopping etc…
Advantages: fun avatar system, coins to be won, visual "messaging" adapted to the young target population, presence of an online platform available to teachers with role plays and exercises for young students.
Disadvantages: rather limited application: only the quizzes are present, so you have to go to the website.
This application was created in 2020 in Australia by John Feldman. It focuses on both budget and investment education, the model is B to C.
It is an application composed of MCQs and content on different financial topics (cryptocurrency, the financial market in general).
It can be downloaded for free from the AppStore and Google Play. It is complemented by a website where you can access articles on the following themes: managing your budget, financial independence…
The aim is to improve the level of financial knowledge via 3-minute microlearning and to democratise this knowledge by making it accessible to as many people as possible.
The application has six different themes, each with three levels of difficulty.
Advantage: presence of several levels with several themes
Disadvantages: not very entertaining
This free app, which can be downloaded from the App Store and Google Play, is backed by Capital.com. It was created in 2018 in the UK. It focuses on trading and investment education.
Playful and highly interactive, it targets the Millennials generation.
With a real community spirit, it allows users to follow, "like" and exchange with profiled users with "credibility" scores, in the same way as on social networks.
One has access to courses as well as training, with the possibility of winning cryptocurrencies.
Advantage: presence of gamification processes, rather user-friendly content
Disadvantage: focuses mainly on trading
It is an American platform created by the SIFMA foundation that promotes knowledge and understanding of the financial markets for all. It is therefore a B to C model.
Access to this trading education platform is free.
This free platform trains students in trading via a simulation game.
They start the simulation with a virtual $100,000 and can train, start investing, create their investment portfolio in the market.
The platform consists of a "Teacher Support Centre" which provides lessons, courses on different topics that students can apply afterwards.
Advantages: in the same way as a video game, players can practice investing virtually.
Disadvantages: few gamification elements. Focuses solely on learning to trade.
Inspired by Duolingo, this American e-learning application targets generations Y and Z by helping them manage their budgets.
It was created by three students from Duke University in the USA in 2020.
Partnering with over 200 financial institutions in 50 states, it allows users to be rewarded according to their progress. Its reward system allows users to convert "pineapples" into gift certificates or donations to associations.
The application also has a website with a blog, an e-learning platform and a news tab on the application.
Advantages: many of the codes of video games are taken up: with the system of coins to be won that can be exchanged for gift cards, progress bars and different levels.
Disadvantage: application available in the US only.
Created by the French Fintech Neuroprofiler, a specialist in cognitive science, gamification and finance, EDUprofiler trains individuals in the mechanisms of financial products in a fun and interactive way.
The platform offers a fluid and interactive experience to its users. Via a fun and personalised dashboard, users can choose to explore new financial concepts either through short infographics, text or training games that allow them to understand the mechanisms of the products by experimenting and having fun. Each game is followed by a reward for success, and immediate corrective feedback for incorrect answers.
The gamification of the course allows the user's attention and interest to be constantly maintained. Each module corresponds to the discovery of a concept or a product. The user can understand the mechanisms in a few minutes. They are thus encouraged to train progressively and frequently on their mobile phone, in order to consolidate their knowledge.
EDUprofiler offers training modules for all levels, from the basics of investment (shares, bonds, funds, etc.) to more technical concepts (structured products, derivatives, etc.).
In addition to democratising financial education, EDUprofiler also makes it possible to meet the MIFIDII regulatory requirements for assessing financial knowledge.
Advantages: Fun content, using gamification processes, intuitive to use. In line with MiFIDII regulations.
Disadvantage: only available through Neuroprofiler's financial institution clients.