More than ever, sustainable finance is on the rise. Chastened by global warming, the health crisis, and social tensions around the world, investors are seeking to have a positive impact on society and the planet. This appetite for sustainable finance has been reinforced by new European regulations, from SFDR to MiFID II. ESG products thus appear to be a trend for the future, as sustainable as they are profitable. The key is to understand investors' expectations to be able to offer them appropriate ESG products. Are individuals more interested in financial products that help mitigate climate change? Or those that work to prevent pollution? Or products that are classified as biodiversity-friendly? In short, what are the expectations of European investors in terms of sustainable finance? Neuroprofiler, a specialist in behavioral finance, offers you the results of an original survey on this subject.
European taxonomy: what is considered a green or sustainable activity?
To help investors direct their investments into environmentally friendly economic activities, the European Commission has developed a classification of financial products. This European taxonomy aims to provide all financial actors with a common understanding of what should be considered a sustainable activity, to prevent greenwashing, and to allow everyone to compare sustainable financial products. The European Taxonomy has developed a list of economic activities (responsible for 93% of greenhouse gas emissions in the EU) and performance thresholds to measure the contribution of these activities to 6 environmental objectives:
Climate change mitigation
Adaptation to climate change
Sustainable use and protection of water and resources
Protection and restoration of biodiversity and ecosystems
Pollution prevention and control
Transition to a circular economy
A given activity can be part of the scope determined by the Taxonomy according to 3 cases:
Own performance: the business is already low carbon
Transitional activity: activity contributes to the transition to a net-zero emission economy by 2050
Enabling activity: the activity enables other activities to reduce their greenhouse gas emissions
To comply with the taxonomy, the company's activity must also meet 3 conditions:
It must contribute substantially to one of the 6 environmental objectives
It must not significantly affect any of the other environmental objectives
The company must respect the minimum social guarantees in terms of work organization
Investors' expectations regarding
sustainable finance
To sell the right product to the right person, financial institutions need to know the sustainability preferences of investors. To help them in this task, Neuroprofiler conducted a survey of 800 investors located in Europe and the US in July 2021 to assess their ESG preferences, based on the European Taxonomy.
Climate change at the heart of investors' concerns
The survey shows that 39% of investors surveyed consider climate change to be an ESG priority, ahead of the circular economy (21%), pollution (18%), water and natural resource conservation (13%) and biodiversity (9%).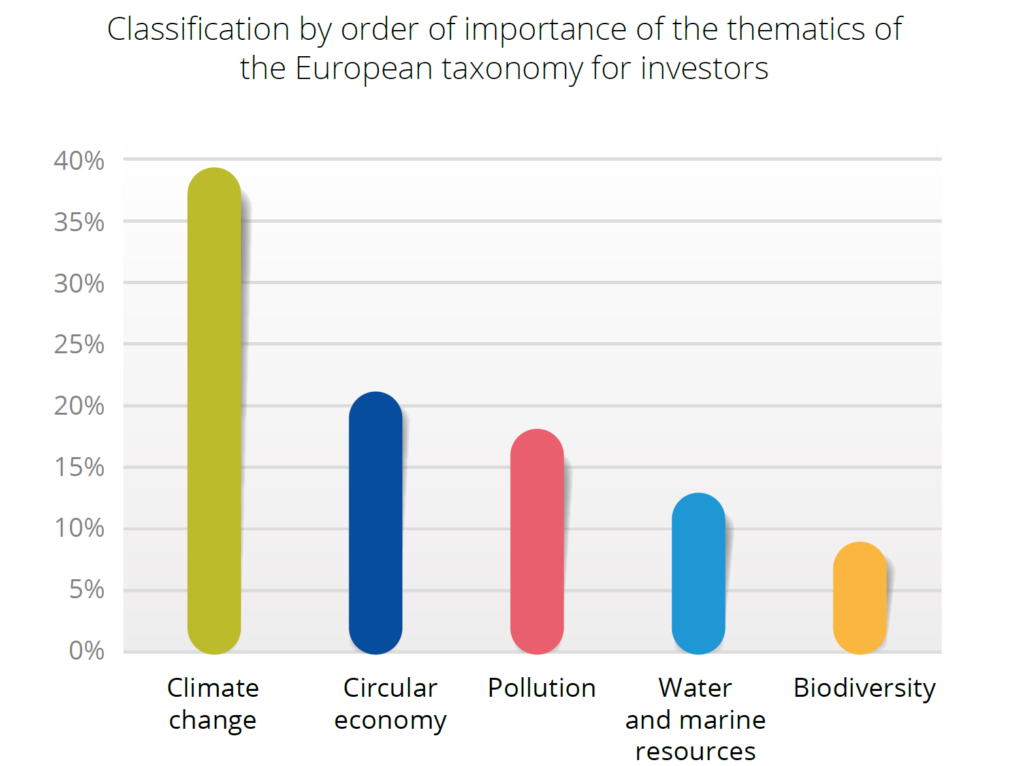 Widely discussed in the political and media world, climate change is quite logically at the heart of investors' concerns. It is also the most common theme in the current range of ESG financial products, which are frequently geared towards carbon or green energy issues, and less so towards biodiversity or the preservation of marine resources. One of the first lessons to be learned from this survey is the need to raise awareness among individuals about other environmental issues. Let's not forget that in this area, everything is linked! The state of the oceans has a direct impact on the climate, and the extinction of a species would be highly damaging to the biodiversity that contributes to the balance of ecosystems. 
Are investors' ESG preferences as strong according to age, gender, financial situation, or nationality? How many are willing to sacrifice profitability to invest in sustainable finance? And how well do they understand these concepts? The full results of the survey can be found in the white paper "Sustainable investment: what are the expectations of individuals?
How do you find out about clients' ESG preferences?
The interest of this survey lies in the combined use of behavioral finance and gamification. Behavioral finance allows us to collect precise data on investors' values, while gamification allows us to popularize a subject as complex as the European taxonomy.
In order to help financial institutions assess their clients' ESG preferences, in accordance with European regulations, but above all so that they can advise their individual clients in a playful and relevant way, Neuroprofiler has developed ESGprofiler.
This ESG product sales tool is presented as an investment game, aimed at highlighting the investment profile and values of your clients. ESGprofiler can be used to raise investor awareness of sustainable finance and thus increase sales of ESG products. It is also a powerful tool for boosting unit-linked sales and increasing the assets of existing clients, as ESGprofiler allows you to offer products tailored to individual preferences. Want to know more about this module? Request a demo!